Putting trust in the Lord to guide me in 2021
By Doug Hon 20/01/2021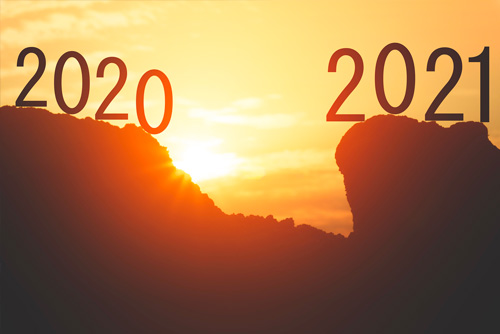 While I know a lot of people don't make New Year's resolutions, I do think most of us make a few goals, even if they are very private, as we march into a new year. I was doing that two weeks ago, thinking about getting in better shape, tightening the budget, and the other predictable January contemplations. Then in my Bible reading I came across seven verses that changed my whole sense of expectation for 2021.
Luke 15:3 "Then Jesus told them this parable: 4 "Suppose one of you has a hundred sheep and loses one of them. Doesn't he leave the ninety-nine in the open country and go after the lost sheep until he finds it? 5 And when he finds it, he joyfully puts it on his shoulders 6 and goes home. Then he calls his friends and neighbors together and says, 'Rejoice with me; I have found my lost sheep.' 7 I tell you that in the same way there will be more rejoicing in heaven over one sinner who repents than over ninety-nine righteous persons who do not need to repent.
8 "Or suppose a woman has ten silver coins and loses one. Doesn't she light a lamp, sweep the house and search carefully until she finds it? 9 And when she finds it, she calls her friends and neighbors together and says, 'Rejoice with me; I have found my lost coin.' 10 In the same way, I tell you, there is rejoicing in the presence of the angels of God over one sinner who repents."
These parables convey the same thought. Jesus seeks sinners! He does not withdraw from them as the Pharisees did, he eats with them, he goes to their houses, he pursues them. Later, Luke would quote Jesus' own description of his mission, "for the Son of Man came to seek and save the lost".
From these two parables it appears that Jesus does this task joyfully. In fact, the joy that the shepherd and the woman had in these two parables was so great that they could not contain themselves so they invited friends and neighbors to share in their joy over finding what was lost!
After reading these verses and considering the joy, yes, the joy, of evangelism, I decided to make a resolution for myself for 2021. It's a prayer, saying, "Father, I ask that you would incline my heart to be like yours in seeking the lost. I'm asking that in 2021 I can share your joy in seeing at least one sinner repent and turn to you. Use me in the process as well as the party. Please make seeking the lost my single greatest ambition for the year. Amen."
Sincerely,
Doug